Zen Cart Mobile Themes
Zen Cart Mobile Templates under the category below are fully compatible with all our regular Zen Cart themes and can be installed alongside with your current theme.
Definitions:
Mobile Template – a secondary template which is installed alongside with your current desktop theme and is ONLY displayed on mobile/devices browsers (separate second template folder in Zen Cart).
Responsive – a single template that RESPONDS to the device browser by displaying the content in an appropriate manner which "fits" the device browser size with using ONLY CSS styles.
SAVE!Buy more than one mobile theme license and get additional discount on whole order!
It is even hard to imagine our live without any mobile devices. Million of people in the world uses ton of varieties devices, including touch-enabled. We are proud to present the best collection of responsive mobile Zen Cart templates in our site. Built with a great passion, they combine some great features that allow mobile users to get the information they look for in an easiest way. A responsive slideshow banner, images conveyor, dropdown boxes - all this makes it much easier to surf through the store with using any mobile device. For those, who prefer desktop version of Zen Cart, we provided the functionality that allows you to get a full site template easily.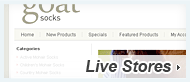 See Articles: